---
Customer Reviews
16/05/2021
Leanne R.

United Kingdom
I recommend this product
Best Investment I've Made Recently!!
I must admit to being sceptical if the price tag on this jacket was worth it - it was more expensive than I budgeted for. I've tested it on a few occasions now, and it keeps me dry during heavy downpours and I'm pleased I invested in it! I'm now the proud owner of a few tribe products and I love them all!
10/05/2021
Helen P.

United Kingdom
I recommend this product
Lightweight and versatile
The lightweight and versatility of this jacket make it one of my most useful pieces of kit. The gilet section fits beautifully due to the stretch panel. The jacket section can be left loose for ventilation or tightened to fit. There is no annoying rustling while running and the pockets are big enough to be useful.
17/04/2021
Jillian C.

United Kingdom
I recommend this product
An amazing lightweight jacket
It's been too warm and dry to use this jacket properly. From the one use so far, the fit is spot on and it didn't ride up or move around. The pockets are roomy enough to fit the bolero part in if necessary and it's very lightweight. It's looking like a very worthwhile investment.
02/04/2021
Sam H.

United Kingdom
I recommend this product
Waterproof Running jacket
This is a lovely lightweight running jacket. Tested on a trail run with all 4 seasons of weather... rain, wind, hail, sunshine and cold. Kept me dry and warm, stopped the wind biting and once the sun came out I was able to keep cool by taking the top layer off. The fit is true to size and very comfortable to run in, although the zip around the collar is quite stiff so irritates my neck a bit, hopefully that will soften after a bit more use. Very good quality as usual from Tribe Sports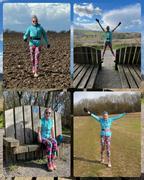 01/04/2021
Lisa J.

United Kingdom
I recommend this product
Finally found what I have spent years searching for
For anyone who hates looking out at the bad weather knowing they will have to forego their run today because they cannot face wearing the heavy waterproof jacket they will have to wear. This is the one for you. It is so versatile with both the separate gillet and over jacket option and is lighter and breathable than any of the lightest items of running gear I have ever tried. Its waterproof qualities are exceptional. I cannot recommend this enough, worth every penny..